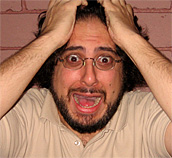 My wife, Esther, sat staring at my computer screen. "Kevin Geoffrey has… issues?" she questioned. "I'm not so sure about this blog thing, Kev." But despite Esther's hesitancy, I'm strangely comfortable with the idea. "Kevin Geoffrey has Messianic Jewish Issues" expresses the need I feel to be brutally honest about everything I write about here on my new web log — including myself. Yes, Kevin Geoffrey has issues… Messianic Jewish issues, that is! Hence, the goal of this blog: straightforward discussion of issues concerning Messianic Jewish identity and function in the 21st century.
The biggest issue facing the Messianic Jewish Movement is that we as a movement have issues! As small as we are, we are nevertheless amazingly fragmented — every corner of the movement vying for preeminance, collectively displaying an amalgamism of disarray to the public at large. While we struggle with trying to understand our identity and function in the world, we are kept too preoccupied to weigh in on matters of importance to our people — adding our voice to a dialogue that could otherwise affect restoration and salvation. It is these issues — issues of faith, of peoplehood, of covenant, of calling, of Messiah — that are the Messianic Jewish issues I wish to address in this forum. Be assured, though I try not to take myself too seriously, I am gravely serious about the issues that affect us not just as a movement, but as the remnant of Israel chosen to bring our people back to God — which, in turn, will be "life from the dead" for everyone (Ro.11:15).
Thank you for joining me in this ongoing discussion. I hope you will jump in, and I pray that you will be both edified and challenged as we work through these important issues together.